Ukraine Appeal - How to Help Pets in Crisis
We've been thinking about pets affected by the Ukraine crisis and how best to support those that are trying to look after them.  So far we've found 3 people who have gone out to help.  We're now in contact with them and have asked for updates and what help they need Here's their details:
Lucie Mountain (above) from Paw Runner has been in touch with a charity called 'Network for animals' who are helping the dogs and cats of Ukraine. They have reported that pet food is now becoming scarce in the shops and neighbouring countries are running very low on pet food supplies in their supermarkets.​
Lucie is a 'woman with a van' so she is going to put it to good use and drive pet supplies and pet food to the Ukraine border where she will meet Foundation ADA and 'Network for Animals' who will take the goods into Ukraine.
​She is asking for donations of dog and cat food, collars and leads, blankets, harnesses, dog bowls and pet cages to safely transport dogs across the borders.
'We are raising money to help us purchase pet food and supplies from those of you who don't live local to us, and to help towards the cost of our travels from the UK to Poland to deliver the goods.'
Further Details
https://www.thepawrunner.com/lendingapawtoukraine                                  Email: thepawrunner@outlook.com
Piers is a Scuba Diving Trainer who lives in Surrey. He was featured on BBC Radio 2 Jeremy Vine Show on Monday 14 March.
Desperate to help he brought a van, loaded it with much needed provisions and drove out to the Polish Ukraine border where he arrived on his birthday on the 11th March.  He has been using donations raised to transport refugees to safety.  As a dog owner he has also been buying dog food for animals that have  fleeing to safety.  Working with others Piers says he will stay as long as possible to help those in need.
We are in contact with Piers via twitter @piersgrundy so that he can provide updates.
UPDATE - 29th March 2022:
Piers has been busy helping refugees escape on the Ukrainian border and supporting their animals as the conflict continues.
Check out these videos from his Twitter coverage:
https://twitter.com/i/status/1508161761647763458
https://twitter.com/i/status/1508159610678562824
Further Details
https://www.justgiving.com/crowdfunding/piersukraine...
Marc from Whitchurch in Bristol is travelling to Poland every 7 - 10 days taking supplies for the animals left behind. They ideally need beds, blankets plus dog and cat food. If you would like to donate contact Emma below.  Here's their story.
Peter age 75 who lives on border of Ukraine feels he is too old to leave his home, He has decided to stay put and look after the pets that have been left. He has taken in dogs and cats and together with other neighbours they are going around looking after pets that have been left behind.
Further Details
https://www.facebook.com/furryfriendsandems                                                      Email: Furryfriendsandems@gmail.com 
Here are details of three leading organisations that have been able to continue working on the ground in Ukraine to support those animals left behind.
And they are:
Based in Romania, Pet Voyage have been supporting pets, which have been transported out of Ukraine. They are bringing animals over to the UK on the 8th April. The organisation which operates in Siret on the border of Ukraine is currently unable to send their vans in because it isn't safe to do so they are 
doing pick-ups on the border.
Further Details:
Check out their Facebook page for the latest updates.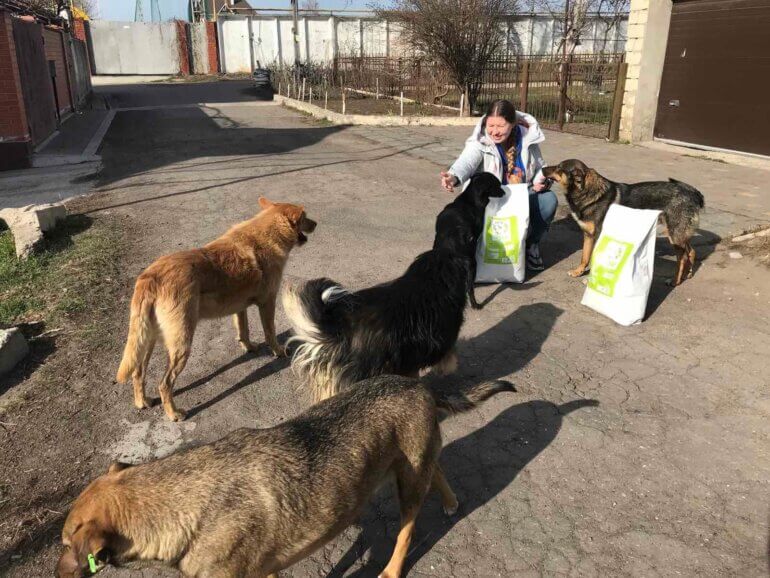 PETA Germany are providing regular updates on their blog. They are currently going into Ukraine to feed and save hundreds of pets that have been rescued from  abandoned buildings and shelters which were bombarded. The animals they are rescuing are being taken to Germany where they are given new permanent homes. 
Further Details: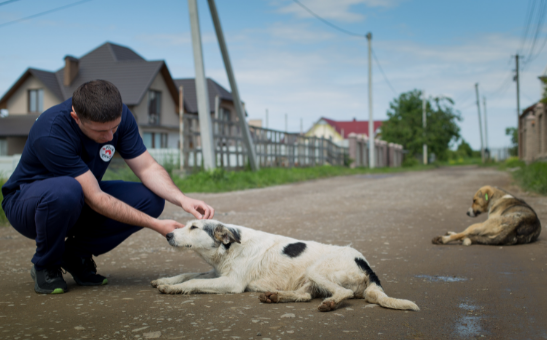 This organisation currently has a sanctuary for those who have been evacuated from the city of Kyiv. There is also a stray animal care team on the ground who are providing urgent care, assessing the situation and planning their next steps.
They are in contact with many organisations and other facilities homing animals, to get continuous updates about their situation.
If you would like to support their animal relief efforts, please donate so that they can ensure that the supplies that are most needed, reach those who need it the most. 
Further Details:
https://www.four-paws.org.uk/about-us/faqs-collection/faq-ukraine
Leave a comment