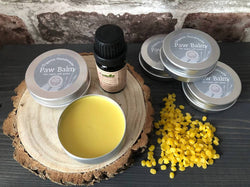 The Artisan Dog Co.
Handmade Organic Paw Balm
These Paw Balms are almost good enough to eat!  Handmade with only organic, natural ingredients they will have your dogs paws super soft in no time, and they are completely safe if your dog licks it.   
Size: 30ml
Shampoo soap bar is also available within this product range 
Ingredients: Natural beeswax, organic coconut oil, organic extra virgin olive oil, lavender essential oil.