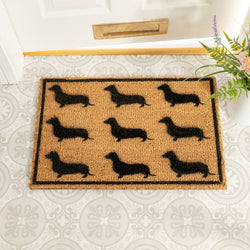 Give you and your guests a grand welcome to your home with this Dachshund doormat from Artsy. All Artsy Doormats are crafted from a high quality tufted coconut fibre!
Artsy Doormats are professionally dyed using exterior paints made to be durable and stick to the coir, whereas some others on the market are made using food dyes and not made to last.
- Made with a non-slip PVC backing
- Natural coir (coconut fibre)
- Suitable for indoor & outdoor sheltered use
- Hand finished in the UK
Choose the perfect design for you & your home.