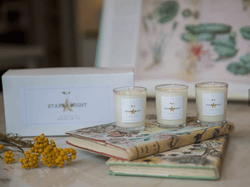 Ollie & Co
Votive Candle Gift Set with 3 Soy Wax Aromatherapy Scented Essential Oil Candles
Starry Night Gift Set
A Trio of our Aromatherapy Votive candles by Ollie & Co, made with Plant Wax and Pure Therapeutic Grade Essential oils.
Created using unique soya and rapeseed vegetable oil blend from natural plant sources only, which as a raw material is both sustainable and kind to your environment. 100% Vegan  Ethical  Cruelty Free. Our candles are naturally coloured and subtly scented with essential oils, they contain no petroleum based dyes or fragrances.
Starry Night Trio: Eucalyptus, Rosemary, Thyme Peppermint, Orange, Citronella, Aniseed
Soy-based candles offer a soft, natural lighting with none of the dangers associated with burning materials such as paraffin wax. Soy candles are made from soybeans, not only making them a safe and natural alternative to petroleum-based paraffin, but also renewable and biodegradable. By buying soy wax products, not only are you helping to support soybean farmers, but you're also ensuring that the newest addition to your home decor burns clean and won't detract from your air quality.
Each candles has an approximate burn time of 12 hours. For best results burn the candle until the entire surface is melted thus releasing the maximum scent from the burn pool. Do not burn for longer than 4 hours at a time and longest burn time is achieved by burning 1-2 hours at a time.