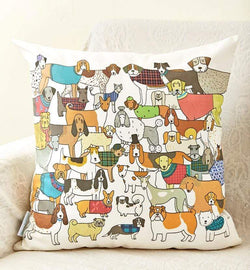 Pack of Proud Pooches Cushion
This large cotton cushion featuring colourful illustrations of some of our best-loved dog breeds is sure to brighten up any room. The variety of pooches on this Mary Kilvert cushion make it perfect for any dog lover. 
Handmade in the UK using beautiful cotton with a neutral plain back that has a lovely soft feel.
Measures approximately 42cm x 42cm.
Removable cover with zip at the bottom.
Filled with soft fiber insert.