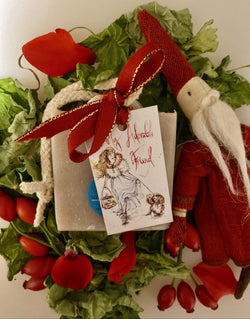 Organic Coconut oil with organic rose hips and cedarwood, rose hips and cedarwood rose geranium Large Shampoo Bar (Our Winter/Christmas shampoo bar.)
Our Christmas rosehip dog shampoo bar is the perfect gift for Christmas for your adorable pooch. All of our ingredients are 100% organic and kind to your dogs skin.
Made by the family of the famous Imperial Leather and Cussons soaps
Our Rose hip shampoo bars are made from organic rose hips. Rose hips are full of skin and hair nourishing vitamins and essential fatty acids which gently moisturise the skin and hair, increasing the hair elasticity giving it luster and shine.
Rose hips also possesses anti-inflammatory properties which help to keep your fur babies skin healthy. The oil within the rose hips is naturally hydrating which is particularly good for dogs with curly or coily hair as these fur types tend to have naturally drier fur. 
Two essential oils are added to the shampoo bar. 
Cedarwood (Atlas) which has antiseptic properties and is a natural pest repellant & Rose Geranuim Essential oil. A sweet smelling essential oil which has anti bacterial and anti-fungal properties and naturally repeals fleas and ticks.
Coconut oil is abundant in antioxidants and micronutrients including vitamins B, C and E which help to maintain both healthy skin and coat.
Our Coconut oil is organic certified by the soil association. Coconut oil also contains a large amount of Caprylic, Capric and Luaric acids which act as anti-microbial agents fighting against viruses, bacteria, fungi and yeast infections, gently helping to keep your Adorable Friend's skin and coat healthy and in tip-top condition.