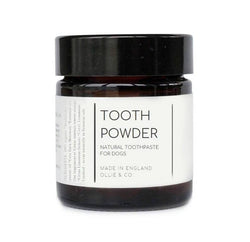 Ollie & Co
Natural Dog Tooth Powder
Ollie & Co Dog Toothpowder is a natural alternative to a chemical dog toothpaste to keep your dog's teeth clean and healthy. Using only 3 natural ingredients which prevent tartar and diminish bad breath. It smells and tastes lovey and is infused with cloves.
100% Natural
Only 3 naturally occurring Ingredients - Ground Cloves, Bicarbonate of soda, Titanium clay
Eco-friendly
Diminishes bad breath
Naturally abrasive
Helps Prevent tartar & stains
Vegan
Cruelty Free
Dog Safe
Made in the UK
Free Shipping Royal Mail 2nd class postage - UK only
Directions: Apply gently to the teeth and gums using a damp cloth, a canine tooth brush or cotton bud. Use as needed from daily to weekly.