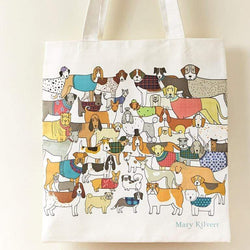 This Mary Kilvert dog tote bag is perfect for taking shopping. Featuring an adorable range of pooches this bag is perfect to cater for all dog lovers regardless of their preferred breed. Beautifully screen printed on both sides, this bag is colourful and bright- a great unique and practical gift. 
Measures 39cm x 42cm,
Made of 100% white cotton,
Machine washable. 
Made and printed in the UK.