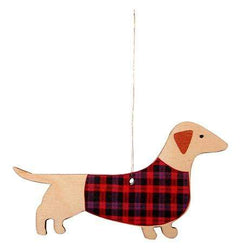 Mary Kilvert Dachshund Wooden Decoration
This Dachshund decoration from Mary Kilvert makes an adorable addition to any home, or as a perfect gift for a Dachshund lover. It is made from birch wood and has a length of gold string for hanging. It is hand printed in the Mary Kilvert studio in Somerset.
 Measures 9.5cm x 6cm x 3mm.